How the Light Gets In
by Jolina Petersheim
SYNOPSIS:
"Compellingly woven by Jolina Petersheim's capable pen, How the Light Gets In follows a trail of grief toward healing, leading to an impossible choice–what is best when every path will hurt someone?" –Lisa Wingate, New York Times bestselling author of Before We Were Yours
From the highly acclaimed author of The Outcast and The Alliance comes an engrossing novel about marriage and motherhood, loss and moving on.
When Ruth Neufeld's husband and father-in-law are killed working for a relief organization overseas, she travels to Wisconsin with her young daughters and mother-in-law Mabel to bury her husband. She hopes the Mennonite community will be a quiet place to grieve and piece together next steps.
Ruth and her family are welcomed by Elam, her husband's cousin, who invites them to stay at his cranberry farm through the harvest. Sifting through fields of berries and memories of a marriage that was broken long before her husband died, Ruth finds solace in the beauty of the land and healing through hard work and budding friendship. She also encounters the possibility of new love with Elam, whose gentle encouragement awakens hopes and dreams she thought she'd lost forever.
But an unexpected twist threatens to unseat the happy ending Ruth is about to write for herself. On the precipice of a fresh start and a new marriage, Ruth must make an impossible decision: which path to choose if her husband isn't dead after all.
About Jolina Petersheim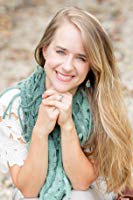 Jolina Petersheim and her husband share the same unique Amish and Mennonite heritage that originated in Lancaster County, Pennsylvania, but they now live in the mountains of Tennessee with their three young daughters. Jolina's fifth novel, How the Light Gets In, a modern retelling of Ruth set in a cranberry bog in Wisconsin, releases March 2019.
Connect with Jolina
Buy your copy here
My thoughts …
This is only the second book I've read by this author…but I've really come to appreciate the gripping story lines, the way she writes about some nitty-gritty issues, in settings that are not your typical story. (this was especially true in the first book I read of hers, The Alliance…which was kind of an apocalypse type of story, but the kicker was that it was set in an Old Order Mennonite community)
This story is also set in an Old Order Mennonite Community. It gives some insight into that kind of culture and setting. What I appreciate is that it is done in a realistic fashion.
This story is a retelling of the Biblical story of Ruth, and yet, it is very much it's own story.
I was immediately drawn in. My heart went out to Ruth and all the hardships she was facing.
This story is all about relationships and conflict in them…and more.
There are unexpected twists and turns, and i very intrigued by the story.
Because I don't want to give any spoilers, I shall leave it at that…and I encourage you to read this book for yourself!
Disclaimer: I receive complimentary books from various sources, including, publishers, publicists, authors, and/or NetGalley. I am not required to write a positive review, and have not received any compensation. The opinions shared here are my own entirely.  I am disclosing this in accordance with the Federal Trade Commission's 16 CFR, Part 255
I was delighted to have the opportunity to be a part of a book tour done by TLC Tours, and here is the link for the other stops on this tour